When you purchased your Bookatent Premium package via the Rhythm and Vines Packages page, you would have received your Package confirmation email. 

FIND YOUR EMAIL
Once you have found your email, click on the MANAGE BOOKING button that will take you to your very own Bookatent portal. Here is where you can manage your booking.
If you can't find your email, contact the team at rhythmandvines.co.nz/bookatent

MANAGE BOOKING
The portal should confirm all the details of your package, including tent type, any package inclusions, check-in dates and times, and guest names included within the package.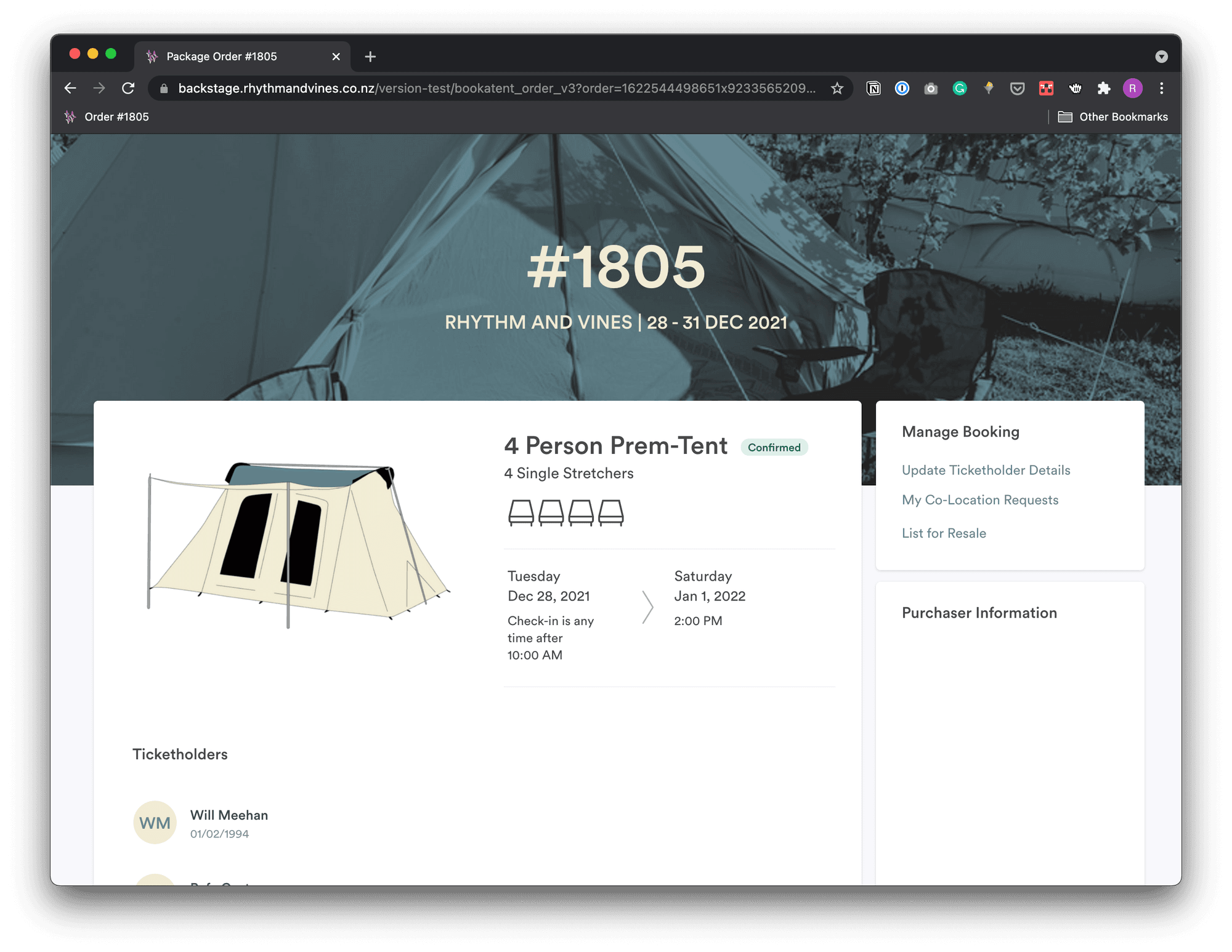 RESALE
Once resale becomes available, if you wish to sell your package, please follow the steps below:
1. Click on List for Resale
2. Pay the $30 per Ticket resale fee
Note: Should your package not be successful in selling via Resale, the package remains valid under your name. The Resale fee will also be refunded.

UPDATE TICKETHOLDER DETAILS
If you need to change details for one or more of the guests within your package, this is where you do it. It is important the names are accurate as their ID needs to match the names on the tickets at the festival check-in.
To edit the names in your package, please follow the steps below:
1. Click on Update Ticketholder Details
2. Make the adjustments to ticketholder details
3. Should the adjustment be simply fixing a spelling mistake, there will be no fee. If it is a complete change of name, a $30 admin fee applies.

Bookatent Premium is available for campers staying in
⛺ Glamping in Premium Camp
⛺ Prem-Tents in Premium Camp

Please note, you can not name change all names in a package to completely different people. The original purchaser will need to remain as the package is tied to their account and payment details. To receive an official name change for all names in the package, it will need to go on our official resale.